War Chest: Spencer Laval
Dink Flamingo
2017-12-06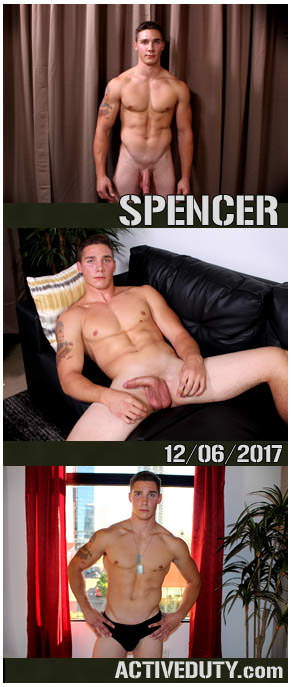 Hey Troops,
Please welcome our newest recruit Spencer who just turned 23 and he is a tall boy at 6 feet 2 inches weighing in at 200lbs of pure sexy muscle. Spencer is extremely active and he is always outdoors having a great time whether its shooting guns with the friends or going off wheeling in the mud.
Spencer is his name and by the end of this scene his name will be
engraved into your mind
. His
body is flawless
and his build is what a true soldier in the field looks like. When he is not behind enemy lines he is out in the real world being adventurous.
He drops his clothes with amazing speed revealing his
beautiful cock
which is thick with a sexy thick vein right down the middle. His
veiny hands
grab on his
throbbing cock
pulling his shaft up and down showing us every sexy inch of that meat.
Spencer's balls
glisten and bounce with each stroke of his cock. His balls are lovely and I hope we get to see a vet put them all in his mouth. Spencer isn't shy and by the looks of it he is very comfortable in front of the camera. We here at AD know we are lucky to have such a sexy fresh recruit showing that he has what it takes to climb the ladder if he so dares to take advantage.
Sadly this beautiful stroking man has to come to an end but as he stands over our glass table stroking his cock he blasts a sexy
thick load of cum
all over it. Thank you Spencer for that gracious load and we hope to see you back here on your next leave.