War Chest: Scott
Dink Flamingo
2016-02-03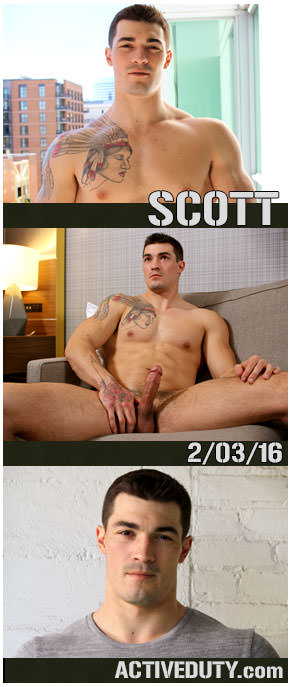 Hey Troops,
Today we have a fresh new recruit who is very eager to show his
gorgeous body off
. Scott is 23, 6 foot 1 and 225 pounds of sexy lean muscle. Hopefully you guys like him because it would be amazing to see him fuck some of our soldiers or hey maybe he will be the bottom.
Scott may look somewhat nervous but his
dick is hard and ready
as he lays back playing with himself for all to see. He is one tall man and his body is made of stone the way its carved out with his
ripping biceps and bulging abs
. His shoulders are wide enough to knock the enemy right off their tracks.
Claude films some really nice sweeping shots
panning up and down slowly
so you can feast your eyes on every part of his sexy toned body. Once he panned around to reveal his
enormous bubble butt
my chin hit the floor and I couldn't believe how firm and muscular it looked.
Scott is at easy stroking his man meat revealing lots of pre cum as Claude moves in for some really nice
close-ups of his hard cock
.
The cleanup with this guy might be a little messy as he unloads his warm jizz all over the couch and floor.