War Chest: Peter
Dink Flamingo
2015-10-14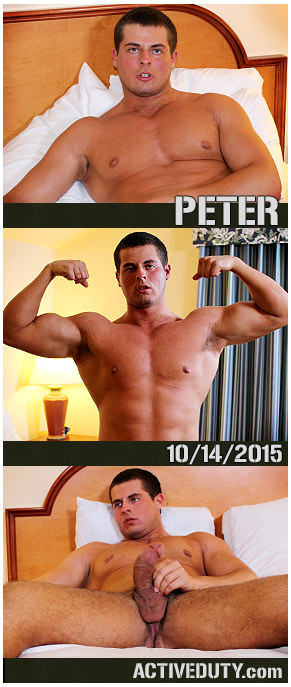 Hey Troops,
This is Peter, a handsome stud who's built like a chiseled statue. I'm not surprised, as he told Claude, he's in the gym every day, most of the day. While they chat, before Peter pulls out his strong cock, Claude hits the nail right on target when he guesses that Peter is a "laid-back, easy-going type of guy."
Although Peter is a bit nervous, I sense such a sweet, young recruit. He's the type of boy that's eager to please and loves sexual pleasure very much. That was clear to me when I saw him work up to blowing his load. I enjoyed the way Peter's inhibitions slowly melted during his jerk session, revealing his raw, natural lust. Right from the get go, Peter tells Claude that, aside from working out every day, he enjoys masturbating when he gets home from the gym. I love this, as it fits right in with how I see military training rooms. When those young men pair up and get into the gym to strengthen their bodies, they form bonds that are forged by iron and steel. All the aggression and pure power must come to a head and explode outward. Peter expresses how important this is to him, and I was salivating when I heard it.
Peter is a no-frills type of dude. He's not hiding anything and that makes for the type of recruit that's easy to work with. I think Peter'll be a real soldier to watch coming up. And by the way this solo goes, I certainly think he'll be back for more. I could see Peter using that power to really fuck a new recruit into shape, and I could also imagine him taking a very solid pounding by someone like Trammel, who would be fun to watch work his huge cock into a fresh, hungry recruit like Peter.
It really turned me on seeing Peter's muscles ripple as he gripped and jacked his hard dick. He has an intensity as he cranks his erection that you can't deny. I'm hoping Peter will bring that back for us to enjoy.