War Chest: Omar Azaro
Dink Flamingo
2016-12-14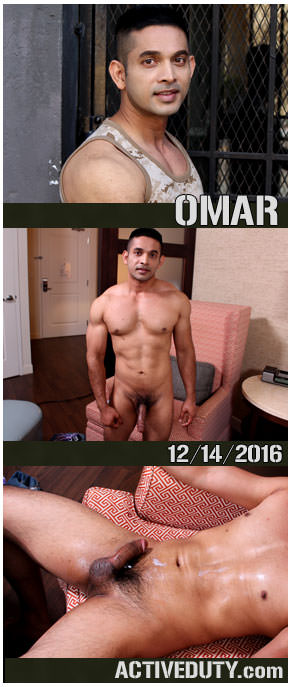 Hey Troops,
I couldn't be happier to welcome our latest recruit,
Omar Azaro
! He's a bit shy, but once this sexy boy opens up to us, I know we'll be sharing some wild times. With his
luscious, dark complexion
, Omar adds some wonderful exotic flare to our AD roster. I can't wait to get to know him better!
Claude chats with Omar a little bit, and we find out that Omar enjoys cooking and working out. Well we can always stand a good chef around the barracks, that's for sure. This time, Omar's whipping up a fresh batch of his signature custard .
Once Claude leaves Omar to do some solo adventuring, Omar takes his time getting in the right mood and pulling off his clothes. I always enjoy a sweet, reserved guy like Omar; they're the most fun to watch come out of their shells. And when Omar does show us what he's hiding under those clothes, we're NOT disappointed!
Omar is nice and toned, with that
exquisitely smooth skin
. That time in the gym has certainly paid off, judging by those
large biceps
and well-built back. Oh yes, I can tell Omar can pack some punch when needed, and hopefully that'll be sooner than later!
He
jerks his thick cock
on a big, comfy chair while Claude gets up high to show us the full monty. Omar props his feet up on an ottoman, which allows us a nice look at his ass. He shoots us intermittent "come-fuck-me" looks while tugging his
greased-up dick
. Yummy!
Then, Omar stands up and Claude gets underneath the goods so we can see how nice those lovely balls look while Omark works on that angry erection. He peeks around his boner every so often to let us know he's enjoying showing off.
And then it's back to the chair, but this time, Omar turns around while on his knees so we can watch his
strong ass muscles
do some sexual thrusting. Boy, this recruit knows how to work his body just right. I can easily imagine him putting on a
private striptease
for one or two lucky soldiers around camp during some down time!
Then it's
dildo
time! Omar is using a good-sized, purple toy to stimulate his
tight hole
while working up to an eruption point. It's easy to see that he likes something big and hard in his ass while
jerking his cock
. I know a few fellow soldiers that would be happy to accommodate.
Omar seems like a great guy who'll be open and willing to push his limits and explore new territory. I just love his body and the unique look he brings to the squad. Here's a big, genuine welcome to you, Omar! Thanks for letting us watch you shoot that
nice, warm load
all over your stomach, and here's to many more in the future.