War Chest: Brad Davis
Dink Flamingo
2015-11-11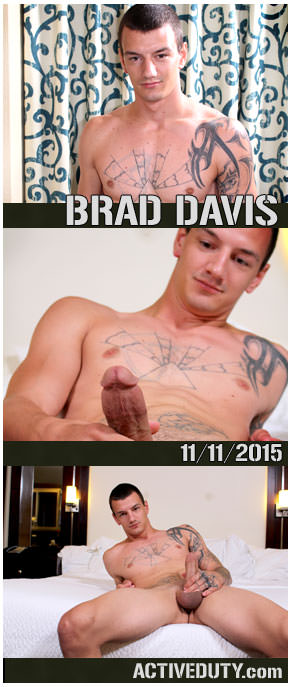 Hey Troops,
Here's an outstandingly handsome recruit who's joining us for the very first time. Boy, this
Brad Davis
is the quintessence of the strong, lean soldier's body. I'm excited to see all that he brings to the table for us. I can tell he's gonna have a whole bunch to offer. And what a great job he does here for his
first time on camera
!
Claude chats Brad up a little bit before he lets him get down to the real fun. Brad is a very fresh 22-year-old and stands at 6 feet. He's lean but nice 'n' chiseled, ready for battle, weighing 160 pounds. He seems just a tad reticent to get started, so Claude does his best to just let him get loose right off the bat.
I sure do love Brad's style! He showed up in a pair of military-style, camo shorts, along with a long-sleeve t-shirt, with the sleeve rolled up to his elbows, exposing some of his sexy and intricate all-black
tattoos
.
Brad starts
fattening his cock
up under his shorts right away. He looks straight into the camera with his big,
gorgeous brown eyes
. This is around the point when I realized what potential Brad has for commanding attention merely with his presence. He definitely has what it takes.
Eventually, Brad stands up from the bed and steps out of the camo shorts. He sits back down and continues squeezing his cock underneath his boxer briefs. After getting just a bit more comfortable, he takes his shirt off and shows us more tattoos and his
unbelievably hot physique
. Brad is built just the way we like our go-to soldiers. It's easy to see he packs plenty of strength. I'm hoping that in the near future we get to see him use those hard muscles while turning up some action with some fellow recruits!
Finally, that cock comes out and Claude gets in nice and tight while
Brad strokes himself
on the bed. We see that
big, stiff dick
getting jacked, and Brad's handsome face behind it, sometimes peeking around and looking at us. I like Brad's hand tattoos, especially from this angle. They're very unique and really compliment Brad's special charm well.
Then Brad stands up and Claude gets an angle from Brad's perspective.
Brad's cock
is so nice. It's thick, and just like him, looks like it could do some damage! I like the way it looks in his hands, too. He has rough-looking hands that also have an aesthetically pleasing quality. I'd wager another cock would look great in his hands as well!
Claude is really bringing in so many awesome recruits lately! Guys like Brad are such treats for our platoon and are exactly how we've kept troop morale sky-high. I know we'll all be looking forward to Brad coming back very soon, and (spoiler alert) I can tell you that we will most certainly be seeing more of this fine recruit. Sit back and join him for this excellent debut, as Brad joins the squadron of the finest men engaged in Active Duty!