War Chest: Alex Michaels
Dink Flamingo
2017-09-13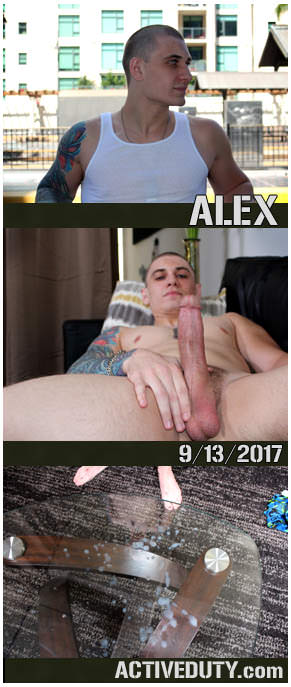 Hey Troops,
Today we got an
inked up bad boy
by the name of Alex who is only 22 standing at 6feet tall and a nice 200lbs of pure raw meat for you to enjoy.
Alex has a full inked up sleeve that is beautiful in color and he's being deployed real soon so we had to give him a chance at showing us what he's got. He's got a mean look to him but also a fun sweet caring look as well. If you don't get on the wrong side of Alex then you will be just fine but if you do be prepared for
some hard pounding
.
Alex pulls his beautiful
thick cock
out and starts stroking every inch of it. It grows to a very nice length and I'm sure we would all love to see it in a
tight ass
.
Claude is always on point as he gets an amazing shot from underneath Alex's
low hanging balls
. You can see the girth of his rock hard cock as he tugs away on it.
Finally his balls are ready to burst and he stands over our glass table and basically covers the whole thing in cum as he releases his built up load. Almost every inch of it gets covered and Claude makes sure to zoom in on the beautiful masterpiece.