Ryan II
Dink Flamingo
2013-03-24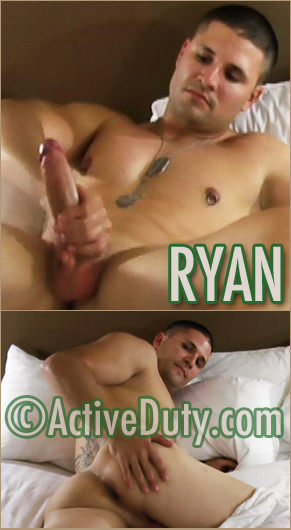 Hey Troops,
Today we have a little something different for you!
We're serving up a never-before-seen solo scene with that hot-to-trot fella Ryan that our guest director pal Mike found a while back. Now, you've seen Ryan before in one solo for us, and in a duo scene with Bryce. But this solo hasn't been seen by anyone until today!
Hot damn is Ryan sexy. I think we should get him back to do some more work for us with that enormous cock of his.
So, in this solo, we immediately start with Ryan buck naked -- but carefully hidden under a sheet. Mike is off camera, talking about Ryan, saying: "great looking body, great looking guy, great looking cock . . . you got everything going for you."
Mike notes how amazing Ryan's ass is, and asks to see more. Ryan says, "You wanna see more?" He then flips over and teases the camera, showing off his perfectly round ass -- that's deftly covered by the crisp white sheet. He slowly pulls it off, feeling his cheeks, grinding his body into the mattress, and showing off his hole for the camera.
Ryan flips back over and starts working his meat under the sheet. We know it's big, but when we finally do see his dick revealed, it's breathtaking. Especially after he shows us just how big it is by pressing the sheet around it, showing us the outline of it. Once he does hoist it out from under the material, I'm speechless. It's a two-fister and thick as all get-out.
Ryan goes on to put on one hell of a show. Wait until you see him shoot. It's like he had a coronary or something. Legs flail about, he's breathing heavy, chest heaving . . . Dang. And that dick! It's the size of a baby's arm, no doubt.
But that's not all!
As I was tip-toeing through our archives -- which are vast, as you members already know -- I realized that there were a few scenes that weren't "live" on the site for you guys to watch. I'm blaming this technical glitch on gremlins inside our new site. lol. Ever since we moved to our new site a while back, we've had some scenes get eaten -- and not eaten out -- just plain old eaten!
So now, I bring you two scenes that you may have not seen in a while. And, if you are a new member to the site, you may have not seen them at all!
Let me reintroduce you to: Dustin and Kale and Heath and Hurley. These scenes are returning to the site effective tonight and you really must go watch them if you haven't yet.
I think Dustin is just the cutest little blond twinkly thing. He's got the most amazing ass.(There's a shot of him fucking Kale in the gallery where Dustin's perfect little bubble butt is frame-worthy, I swear. Actually, it's there on your left -- the middle image. Awesome, right?) . . . As for the Heath and Hurley scene, it's fun to watch beefy Hurley fuck the rock-hard, tattooed Heath all over the bed. It's always so hot to see a bottom stay hard throughout a fucking, and that's exactly what Heath does.
Alright then, enjoy Ryan -- and our other "found" scenes -- and we'll see you back here on Wednesday for another War Chest Update!
Dink