Kindal
Dink Flamingo
2014-04-23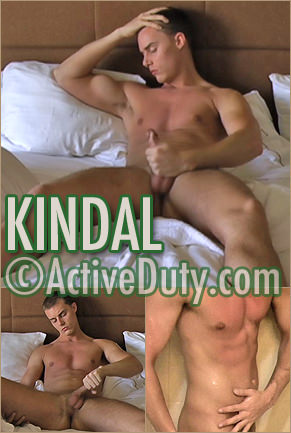 Hey Troops,
Our guest director Mike brings us the strapping Kindal tonight -- all 6'2" / 190 lbs. of him! Kindal is super smooth, works out five times a week and has the body to prove it. He's excited (and a bit nervous), but we know Mike can bring out the best in him.
The scene opens with Kindal in the shower, soaping up his body (and we spy an interesting tattoo on his upper back). It's amazing to see his glorious skin glisten under the water that cascades down his back.
When Kindal retires to the bed, we get a little bit of ass play from him, before he jerks out a nice load over his stomach.
P.S. Don't forget about our special membership promotion and DVD sale! For one week only, try Active Duty for TWICE AS LONG at HALF THE PRICE!. Also, all DVDs are 50% off! But this offer will only last through midnight at April 27. So hurry!
See you Sunday!
Dink