Bruce (dildo solo)
Dink Flamingo
2014-06-10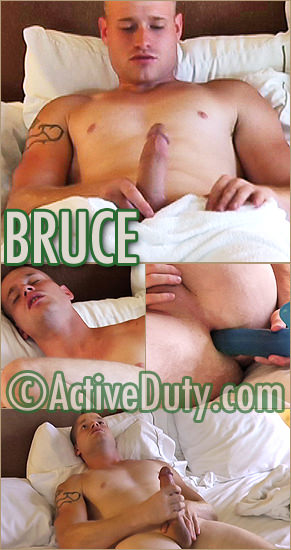 Hey Troops,
Emerging into the War Chest tonight is a long-lost scene starring one of our personal favorite cowboys, Bruce.
The 23-year old is a discovery of our guest director pal Mike, and shot a couple scenes for us earlier, including solo, an oral duo and a hard core fucking scene.
That said, we could never get the Arkansas native to cross that line and get fucked. Alas.
Well, we got the next best thing -- Bruce using a big ol' dildo on himself! So tonight, we're finally releasing Bruce's hot dildo scene, after I temporarily lost it to the wilds of my war chest o' scenes.
Bruce likes to rodeo (cloverleaf barrel racing, specifically), wrestle, and back in high school he played football. He's told us previously that the military was always his calling, so he bypassed college (even though he had a sports scholarship).
Enjoy this scene with Bruce, and we'll see you back here on Sunday!
Dink