Alan
Dink Flamingo
2014-09-10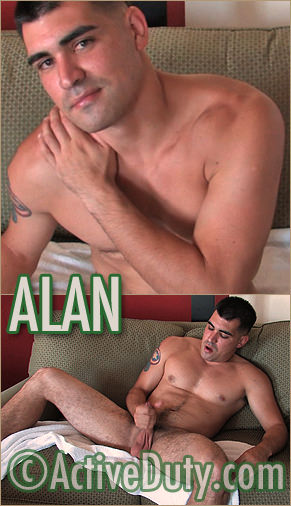 Hey Troops,
It's your mid-week update straight from Active Duty HQ!
We've got a sexy new guy for you to meet from our guest director Mike tonight: Alan. This beefy guy has got thighs to die for, a heart-melting smile and a body that won't quit.
26-year old Alan says he's a "laid back guy," but this 5'9" tall dude is ready to show us what he's got.
As our scene opens, Alan (who weighs in at a muscular 185 lbs.), says he's not used to the heat outside, but the temperature is only just getting turned up in our intimate encounter. He tells Mike that he's got a "wild side" that he's only more than happy to show off now and then. I like that attitude!
Alan says he's always up for excitement, and we're going to get some today!
Enjoy your first look at Alan, and we'll see if Mike can lure him back for another go-round at the Active Duty corral.
And lest I forget, we've got a sizzling sale going on for our memberships and DVDs! All Active Duty DVDs are just $18.94, and Dirty Bird DVDs are just $28.94. Have I mentioned just how amazing content you get with your membership? Let me remind you: 15 years of content, 350 amateur models, 800 scenes (good lord, 800?!) and so, much, more. This sale ends on Sept. 14.
See you back here on Sunday,
Dink